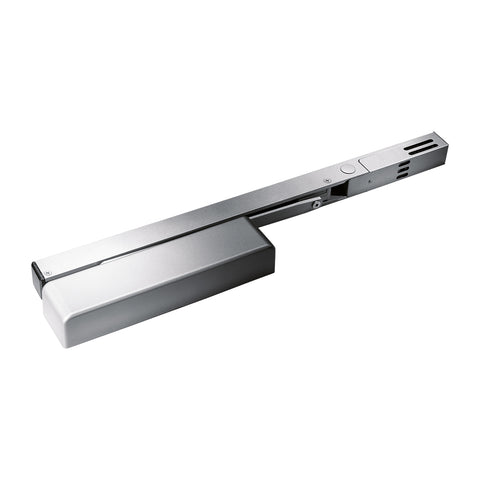 Dorma TS 9315/9356 EMF Premium Electromagnetic Closing Device — 24 VAC/DC.
DORMA TS 9300 EMF SERIES 
Premium Electromagnetic Slide Track Holder/Closing Device 24 VAC/DC. Transformer required if power source is 120 VAC.
Holder/Release Devices with Integral Door Closers
The EMF Series holder/release device incorporates a photoelectric detector and can control the spread of smoke and fire in a specific location or throughout the building if wired into a central alarm panel.
Patented hold open design
The EMF Series patented hold open design prevents damage to the door, frame, holder/release device, or other installed hardware. This design enables initial hold while allowing the door to be manually opened beyond the hold open point.
Compatibility and wiring
The EMF Series is compatible with new or existing fire/smoke control systems and can be wired for concealed or surface wiring.
Door shuts in case of an alarm state or power failure
In the case of an alarm state signaled by the central control system or main power failure, current to the electromagnetic hold open device is interrupted, thus allowing the door closing mechanism to take over and shut the door.
---
We Also Recommend