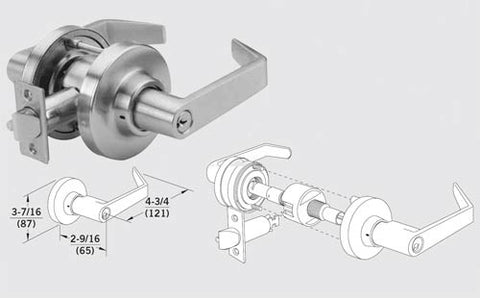 Dorma CL700 Series Lock Priced At $135 Wholesale Door Levers, Locksets
DORMA CL700 and Dorma CK700 Series Lock and Door Knobs
Grade 2 Cylindrical Lockset
The Dorma CL700 and Dorma CK700 Series grade 2 cylindrical Locksets provide exceptional security, enhanced aesthetics, and rugged dependability. These key-in-lever Locksets are built with a high performance cylindrical chassis for all applications where ANSI A156.2 Series 4000 Grade 2 products are required. To meet the needs of your project, these versatile Locks are available in a range of lever and knob trim designs.
Please Contact Us For Bulk Pricing Discounts And Custom Sizing Options.
Different designs
Choose between the LR, LC, and LG lever designs or the KR and KB knob designs.
Strength and resistance
CL700 Series locks are through-bolted for additional strength and increased resistance to vibration.
Dorma CL700 / CK700 Series Lock
Dorma CL700 / CK700 Series Lock
Dorma CL700 / CK700 Series Lock
Dorma CL700 / CK700 Series Lock
Dorma CL700 / CK700 Series Lock
---
We Also Recommend