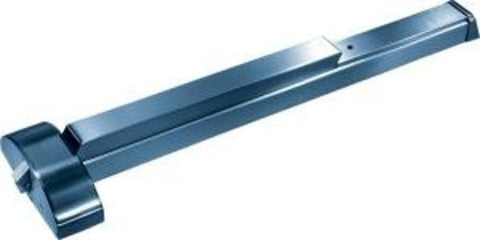 Dorma F9300 Fire Rated Rim Exit Device at Wholesale Door Closers
Dorma F9300 series Fire Rated Rim Exit Device.  All Available Finishes offered.  Wholesale Door Closers Pricing Options Available.
The 9000 Series is available in architectural finishes as well as powder coated finishes. A full complement of free wheeling lever trim is available in a wide range of architectural finishes.
Applications
This premium exit device is built for high impact applications such as schools, universities and other institutional or commercial buildings.
DORMA Solutions.
All standard devices and trim are designed for 1-3/4"- 2-1/4" thick doors.  For door thickness greater than 2-1/4", consult DORMA Technical Service.
Motorized Latch Retraction
The MLR feature retracts the latch using a whisper quiet motor, drawing in the touch bar, thus retracting the latch. The device can be activated by a variety of credentials and also has the ability to electrically hold/dog the exit push bar in a retracted position during non-secure hours.
---
We Also Recommend