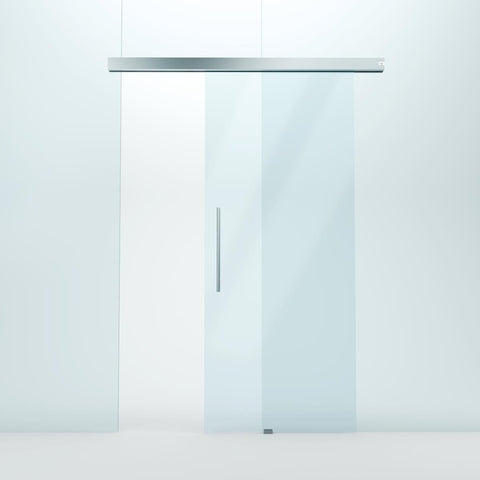 Dorma Kaba Muto Sliding System
$ 1,39595

Save $ -1,395.95
---
---
Muto Sliding System
MUTO's compact elegance and wide optional functionality offer enhanced user-friendliness in a sliding door system:
Self-closing units allow power-free self-closing action
Door panel is gently brought to its end position through DORMOTION
Status indicator allows connection to a facility management system
Synchro function bi-parts both doors of a pair by movement of either door 
MUTO Premium Ceiling Mount Recessed (CE-R)
Designed for maximum transparency, MUTO Ceiling Mount Recessed (CE-R) systems fit within a 3-5/8" (92) minimum width ceiling channel while still providing the same features for enhancing ease of operation and convenience as non-recessed models.
MUTO Telescopic
Telescopic offers solutions with single or bi-parting door panels providing wider openings when space is limited. Like all MUTO systems, Telescopic can be wall, ceiling, or glass mounted.
With or without sidelites
Single and double panels 
for light and heavy doors 110-330 lb (50-150 kg)
Choice of finishes in clear anodized, anodized similar to satin stainless, or numerous RAL options upon request

Impressive convenience

 

MUTO's compact elegance and wide optional functionality offer enhanced user-friendliness in a sliding door system:

 

Self-closing units allow power-free self-closing action
Door panel is gently brought to its end position through DORMOTION
Status indicator allows connection to a facility management system
Synchro function bi-parts both doors of a pair by movement of either door 

 

MUTO Premium Ceiling Mount Recessed (CE-R)

 

Designed for maximum transparency, MUTO Ceiling Mount Recessed (CE-R) systems fit within a 3-5/8" (92) minimum width ceiling channel while still providing the same features for enhancing ease of operation and convenience as non-recessed models.

 

MUTO Telescopic

 

Telescopic offers solutions with single or bi-parting door panels providing wider openings when space is limited. Like all MUTO systems, Telescopic can be wall, ceiling, or glass mounted.

 

With or without sidelites
Single and double panels 
For light and heavy doors 110-330 lb (50-150 kg)
Choice of finishes in clear anodized, anodized similar to satin stainless, or numerous RAL options upon request

 

Easy installation

 

MUTO makes installing manual sliding door systems simple:

 

Access to all settings and adjustments thanks to removable front cover
Height adjustment available once door panel is hung
DORMOTION damping does not require glass preparation and is suitable for retrofit
Adapter profile is available for suspended ceilings
Tested for use with TLG (tempered laminated glass) 
---
We Also Recommend